Durham Miners' Gala attracts thousands on to streets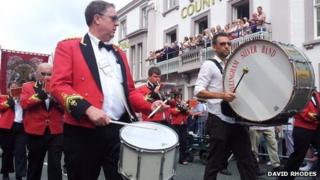 Thousands of people have attended the annual Durham Miners' Gala.
Dozens of brass bands entertained crowds lining the streets before a gathering at the Racecourse.
Speakers at the 'Big Meeting' included union leaders Len McCluskey and Bob Crow and actor Ricky Tomlinson.
The gala is a celebration of the area's mining heritage and links to the trade union movement. This year's event went ahead after a cash appeal by the Durham Miners' Association.
Bands from around the country travelled to the event.
Terry Hardy from the Strata Brass band in South Yorkshire said the day was all about fun.
"This is a lifestyle for a lot of us, we learned to play when we were young and we've grown up with it" he said.
"The political element is there but it's a mixture, it's a day out and everyone is enjoying it."