Hillingdon and Cornwall hospital death rates 'up 25% at weekends'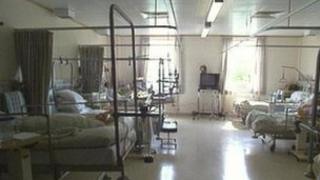 Death rates at two hospitals in England rose by at least 25% at weekends, new figures suggest.
Health research group Dr Foster said weekend deaths at the Hillingdon Hospitals NHS Foundation Trust rose 27%, and deaths at the Royal Cornwall Hospitals Trust (RCHT) increased 25%.
Hillingdon bosses said they carried out a "great deal of work to address this".
The RCHT said its overall mortality rates were "within the expected range for an NHS trust of our size".
Riskier
In a study for the Sunday Times, Dr Foster said it compiled the figures from data covering 2011-12.
It said it reached the figures using the Hospital Standardised Mortality Ratio (HSMR), which compared expected rates of death with the actual rate.
If the two were the same, the hospital got a score of 100, it said. If the number of dead was less than expected, it received a lower score, and if higher the score rose above 100.
Dr Foster said the Hillingdon Trust, in Middlesex, saw weekday death score of about 102.5, but at weekends it was 130.4.
The Cornish trust's weekday death score came in at about 97.5, but weekends saw a score of 121.
Dr Foster said weekends were riskier because fewer consultants worked then and there was less access to scans and other diagnostic services.
'Complexity of care'
The Hillingdon Trust said: "A great deal of work was carried out to address this and, as a result of various improvements, the HSMR has been reduced to 91.7, up to and including March 2013.
"During 2012/13, the weekday versus weekend mortality rate was also tracked at board level, and it was identified that there was no longer a difference between weekday and weekend mortality rates."
RCHT medical director Dr Paul Upton said: "Our overall mortality rates are within the expected range for an NHS trust of our size, the average age of patients and the complexity of their care.
"We thoroughly reviewed our records when these figures were reported but did not identify any cause for concern.
"Our patients can be assured they will receive safe, high standards of care no matter when they are admitted to hospital."
The medical director of the NHS, Bruce Keogh, said he wanted the health service to be fully functional seven days a week, with senior doctors on hand on Saturdays and Sundays.