Dangerous dogs: MP and victims' families hand petition to Downing St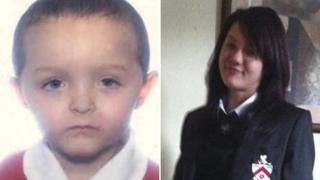 Parents of children killed by dogs have taken a petition to Downing Street calling for action to prevent attacks.
Jade Anderson, 14, was mauled to death by four dogs at a friend's home near Wigan in March and John Paul Massey, 4, was killed in Liverpool in 2009.
Relatives travelled to London to hand in a 4,500-signature petition urging preventative measures and education.
Environment minister David Heath has said a proposed new bill will tackle irresponsible owners.
The Anti-social Behaviour, Crime and Policing Bill, which would replace the Dangerous Dogs Act, is going through Parliament.
It would give police and local authorities the power to prosecute owners if their animal attacks someone on private property.
'Common sense'
But campaigners say more must be done.
Jade's father Michael Anderson, 34, from Atherton, said there should be more early intervention with owners and more help for councils and police forces to deal with potential problem animals.
He added: "We want David Cameron to have a good in-depth look at it and get some legislation put in place with the Dangerous Dogs Act.
"We want early prevention to take place introducing dog control notices and education - just common sense really.
"We want owners to become aware of their pets - if you have them in your home you have got to be a responsible owner."
Two months after Jade's death, Clifford Clarke, 79, was mauled to death by a dog in his garden in Liverpool.
'Thousands disfigured'
The parents of John Paul Massey, Angela McGlynn and John Massey, have been campaigning for new laws since their son was killed by his uncle's pit bull terrier four years ago.
Ms McGlynn said: "All I am trying to do is prevent other families living what we are living through - we are just trying to push it forward."
More than 200,000 people a year are estimated to be bitten by dogs in England, based on research for the British Medical Journal.
Luciana Berger, Labour MP for Liverpool Wavertree, said: "The government promised to tackle this issue, but they simply haven't gone far enough to protect people from dangerous dog attacks.
"Too many families have already lost loves ones to attacks and thousands of people are hospitalised or disfigured every year.
"I welcome the fact that they are changing the law to cover attacks on private property and that they are going to introduce micro-chipping but that alone won't prevent dog attacks from happening in the first place."
A Department for Food, Environment and Rural Affairs spokesman said: "The effects which dog attacks can have on victims and their families are deplorable and the government is serious about tackling irresponsible ownership.
"That's why we're changing the law to allow the authorities to intervene before an aggressive dog attacks someone."