Severn Trent water supply problems blamed on gardeners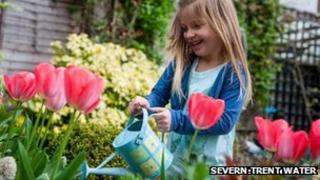 Night-time garden watering has been blamed for causing low water pressure in some properties in the Midlands.
Severn Trent Water, which supplies water to 7.7 million people, has told residents not to water at night.
The company said leaving a hosepipe or sprinkler running can use 220 gallons (1,000 litres) of water every hour, which is more water than a family of four would normally use in a day.
The company said stocks were "healthy" and a hosepipe ban was not expected.
'More risk'
Marcus O'Kane, from Severn Trent Water, said their reservoirs needed to refill during the night so that water was available when people get up in the morning.
"Because some customers are leaving hosepipes or sprinklers running overnight... some of our customers are seeing lower pressure than normal and there is more risk if we have a problem somewhere on our network," he added.
Last week about 3,000 Telford homes and businesses supplied by Severn Trent Water suffered loss of water supply and problems with low pressure for more than eight hours.
The company has reminded people a water meter is mandatory for anyone who uses garden sprinklers or other automatic garden watering systems.
Last weekend an additional 76.9 million gallons (350 million litres) of water was used by Severn Trent Water customers, which is estimated to be enough to fill 175,000 paddling pools.
However, a spokesperson said water stocks were "still looking healthy for the time of year".