East of England Ambulance rapid response car rollout begins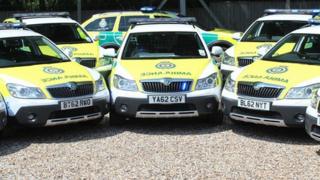 An ambulance service will have enough staff for its £2.3m fleet of 110 one-person rapid response cars, it says.
The East of England Ambulance Service NHS Trust has been criticised for failing to meet response targets, and starts receiving the cars this month.
It needs to recruit more than 350 additional people for the 145 new A&E ambulances it will have by next June.
The union Unison said the trust must "balance" its fleet between the cars and double-staffed ambulances.
The trust, which provides ambulance services in Bedfordshire, Cambridgeshire, Essex, Hertfordshire, Norfolk and Suffolk, currently has a fleet of 228 rapid response vehicles.
The new Skoda Scout cars will replace older vehicles and go into use as they arrive.
Associate director of operations support Paul Henry said the trust was "moving as quickly as possible" to get the vehicles on the road "in a timely manner".
'Ordered to improve'
The fleet upgrade and staff increases are part of the trust's "turnaround plan" to improve patient care and staff morale.
It was ordered to improve by the Care Quality Commission (CQC) after its response times deteriorated.
The Unison representative Tim Roberts said: "The bigger picture [for the trust] is a balance between solo responsibility and double-staffed ambulances.
"The issue for patients, and one of the reasons the CQC failed it for patient care, was around response times for people going into hospital - and this is only addressed by an increase in double-staffed ambulances."
The trust confirmed that by the time it received all the new A&E ambulances, its fleet would have increased from the current level of 283 to 308.
A spokesman also said one-person rapid response cars could take patients to hospital "when minimal supervision is required".
Since it announced its "turnaround plan" in April, the trust has employed an additional 68 care assistants and 61 paramedics.
It will begin a campaign to recruit an additional 82 specialist paramedics this week.