Richard III remains: Reinterment delay 'disrespectful'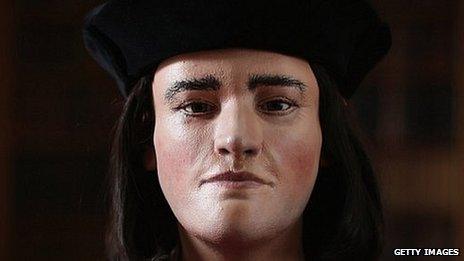 The Dean of Leicester has asked for a legal battle over the remains of Richard III to be resolved as soon as possible so the king can be reinterred.
The Very Reverend David Monteith said it would become "disrespectful" to the king if the process dragged on.
Richard III was due to be interred at Leicester Cathedral but this is being challenged by the Plantagenet Alliance, which includes 15 distant relatives.
The remains have been at the University of Leicester since they were removed from under a city car park in September 2012.
Dean Monteith said: "The remains of a human being can't simply be left unattended to, and in addition, these are the remains of an anointed king."
The Plantagenet Alliance is seeking a judicial review - and Dean Monteith has written to the Administrative Court asking that the process should be expedited.
A judge must decide if there are grounds for the judicial review to take place, and if so, set a date for the hearing.
"If this process was allowed to drag on for a very long time then it would become disrespectful," said Dean Monteith.
"The local community, and national and international community, would be asking serious questions."
They were were due to be interred at the cathedral in May 2014 - but the cathedral does not want to invest further money in the "time consuming and expensive" project until a decision has been made.
Matthew Howarth, head of litigation at Gordons Solicitors, representing the Plantagenet Alliance, said he could not comment on the dean's request without having read all of his reasons.
"At the moment it is not unusual to have not been given an indication from a court at this stage because courts are very busy," said Mr Howarth.
"We say our case is important but it's not a case of somebody seeking asylum or anything like that, so we are not going to be top of the pile."
A spokesperson for the University of Leicester said: "The University of Leicester, as the licence holder from the Ministry of Justice, is keen for the judicial review to take place at the earliest opportunity.
"As an interested party, the cathedral are within their rights to call for the review to be expedited."
Related Internet Links
The BBC is not responsible for the content of external sites.