Ray Wilkins 'had two glasses of wine'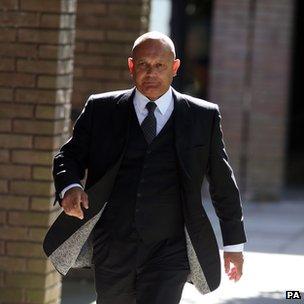 Former Chelsea and Manchester United footballer Ray Wilkins has told a court he had just two glasses of red wine before being pulled over by police.
Tests taken at a police station showed the ex-England midfielder was almost three times the legal limit when he was stopped near his Cobham home last year.
Mr Wilkins was arrested on 7 May last year after his car was seen "weaving" down the road at about 01:45 BST.
He denies a charge of drink-driving at North Surrey Magistrates' Court.
The former England captain said he had been sipping water "all evening" while at an awards ceremony in Bournemouth and "felt fine".
On Monday, the court heard the Sky Sports pundit slurred his words and leaned on his car for support when he was pulled over.
CCTV footage of Mr Wilkins swearing at police officers was also shown to the court.
Paul Lund, for the prosecution, said: "Do you remember the officer saying 'It's not going to help if you are rude and abusive'?"
Mr Wilkins replied: "I don't remember that."
Mr Lund said: "Do you remember saying the following words 'I'm bang out of order'?"
Mr Wilkins answered: "That's something I would say if I said something of that ilk."
He claimed he had no memory of making the remark.
Mr Wilkins had left Bournemouth at about 23:00 on 6 May 2012, and was pulled over two hours later.
He told the court: "I was extremely tired after a long day, a lot of driving and I was a tired person."
Mr Lund suggested the former footballer drank significantly more alcohol than he claimed during the evening and knew "perfectly well" that he was over the limit.
"You have been involved with professional sport at a high level and have dealt with the production of fit athletes and you have seen how they behave, young footballers who get themselves into trouble," Mr Lund said.
"It's not credible that you don't know about drink-driving."
He said: "You didn't utter a single protest about the events that befell you, Mr Wilkins.
"I suggest that's because you knew from the moment you saw the blue lights, that you were bang to rights, didn't you?"
Mr Wilkins replied: "You can suggest what you wish, but I wasn't."
The footballer won 84 caps for England and played for clubs including AC Milan, Chelsea and Manchester United during a career that spanned three decades.
In 1993 he was made an MBE for services to football.
Related Internet Links
The BBC is not responsible for the content of external sites.