West Midlands Police seeks technology partner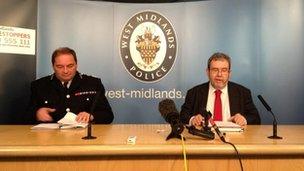 West Midlands Police is to look for a partner to help it modernise through improved use of technology.
The force's commissioner Bob Jones has announced plans to join up with an organisation with experience in the public and commercial sectors.
Any savings will help towards the £100m cut to the force's budget over the next four years.
Chief constable Chris Sims said the work would "not necessarily" mean the loss of any jobs.
Mr Sims said: "This is really about bringing technology and know-how and supporting the way that we work.
"Services will continue to work through me as chief constable and then be accountable through to the commissioner.
"We've got some really good people delivering technology for us but they have their hands full running the systems that we've got.
"Initially the partner is coming in to help us to do a big piece of design and development.
"And on the back of that design and development we'll decide case by case how we take forward the proposals."
The force is set to begin advertising for the work this week.
"Any partner we work with will have to understand the values and ethos of the public sector and have an in-depth knowledge of policing and criminal justice," Mr Sims added.
Related Internet Links
The BBC is not responsible for the content of external sites.