Bestival crash deaths: Coroner raises 'tyre concerns'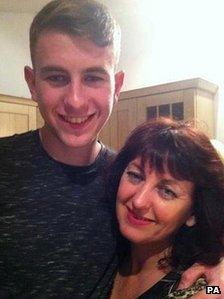 A coroner is to urge the government to look at the dangers of vehicle tyre age following a fatal crash involving a coach returning from a music festival.
Driver Colin Daulby, 63, and passengers Kerry Ogden, 23, and Michael Molloy, 18, were killed in the accident on the A3 in Surrey on 10 September.
The coach was travelling from Bestival on the Isle of Wight when the tyre, said to be nearly 20 years old, burst.
Surrey inquest coroner Richard Travers recorded a verdict of accidental death.
He said the "catastrophic failure" of the 19-and-a-half-years-old tyre had caused the accident.
Mr Travers added: "The real explanation that this tyre failed so catastrophically is through age.
"I formally announce that I will be writing a rule-43 report to draw attention to the Minister for Transport of the very dangers caused by the fact that vehicles, be they private, commercial or public are legally able to drive on tyres without restriction on age and by reason of age are potentially in a perilous condition which there is no realistic means of detecting."
The coach, which was operated by Merseypride Travel, was full of friends who had left the north west for the festival five days earlier.
Mr Daulby, from Warrington, Miss Ogden, of Maghull in Liverpool, and musician Mr Molloy, from Woolton in Liverpool, died from multiple injuries.
Many other passengers suffered serious injuries in the crash.
Mr Molloy's mother Frances said after the verdict it was shocking there was no legislation about the permitted age of tyres.
"The fact that this was totally preventable is indescribable," she said.
"Whilst it may not be illegal we believe it was immoral for Merseypride Travel to have a 20-year-old tyre on a coach.
"It was two-and-a-half years older than the coach and it was actually older than Michael himself.
"If that tyre had been a good age, Michael, Kerry and Colin would still be here today."
She said she would lobby the government to make it illegal to have such old tyres on vehicles and would take legal advice about whether the coach company could be held to account.
Insp Richard Mallett, of Surrey Police, said the use of old tyres was a huge worry but there was nothing police could do without legislation.
"That tyre was on the coach when it passed its MOT and there was no reason to suspect it was going to fail," he said.
When asked for his professional opinion about the use of a 19-year-old tyre, he said: "I wouldn't have one on my car."
Surrey Police said Merseypride Travel was due to appear at Guildford Magistrates' Court on 12 August charged with using a defective tyre on the coach.
The charge refers to a different tyre from the one which caused the Hindhead crash.
Related Internet Links
The BBC is not responsible for the content of external sites.