Dartford Crossing to lose '£6m a year in unpaid tolls'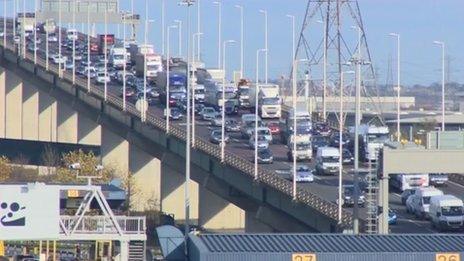 The Dartford Crossing is predicted to lose about £6m a year in unpaid tolls once a new charging system is in place, the Highways Agency has said.
Barriers will be removed from October 2014 and drivers will be recorded via number-plate recognition cameras and urged to pay before they travel.
A Highways Agency spokesman said it would use penalty and recovery processes to recover charges owed.
It has estimated that the crossing will have a 93% compliance rate, meaning 7% of drivers would not pay the charges.
BBC South East Business Correspondent Mark Norman had said if it was assumed they were all foreign-plated HGV vehicles, then more than 3.5 million vehicles would escape paying, which at £6 per HGV would add up to £21m a year.
However, the agency later told BBC South East the figure attributed to non-compliant users was not one that it recognised.
"Around 2% of all crossings are estimated to be foreign (non-UK) lorries and only a small percentage of these are anticipated to be non-compliant," it said.
"We recognise that we have to be realistic about deliberate evasion, since free-flow charging or tolling schemes will not be evasion free.
"We estimate that around £6m per annum would be attributed to non-compliant drivers (UK and non-UK) who do not pay the road user charge."
The new "free flow" toll system will allow motorists to use the Dartford Crossing without having to stop at barriers to hand over payment.
Road users will be able to pay through a variety of methods including telephone, text message, online, and at retail outlets.
Motorists will have up until midnight on the following day to pay the standard charge.
The penalty charge for non-payment will be £70, with a reduced rate of £35 if paid within 14 days.
If the penalty is not paid within 28 days it would increase to £105.
The Dartford to Thurrock crossing, which consists of the Queen Elizabeth II Bridge and two tunnels, is used by 140,000 vehicles a day.
Related Internet Links
The BBC is not responsible for the content of external sites.