Sir Bobby Robson National Football Day plans unveiled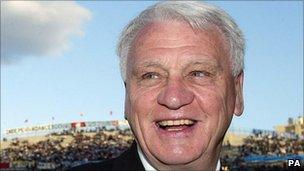 Plans for a national football day that will honour the late Sir Bobby Robson have been unveiled by the FA.
About 150 events will take place across the country for The Sir Bobby Robson National Football Day on 10 August.
The FA said the day would focus on many aspects of the game including women's football, disability football, refereeing and coaching.
Lady Elsie Robson, Sir Bobby's widow, said: "Bob would have been thrilled having a day named in his honour."
She will attend a coaching clinic and tournament at the Sir Bobby Robson Football Centre in Sacriston, Durham, near to where he played as a youngster.
Other events planned for the day include a women's festival at the national football centre at St George's Park in Staffordshire, a beach soccer event in Dorset, a Respect event at Netherton United in Peterborough and a tournament and coaching session at AC Paulista FC in Lewisham, London.
The events are also part of the FA's 150th anniversary celebrations which mark its work at grassroots level.
Sir Bobby's son, Mark Robson, hopes the day will help build on an FA campaign to boost the sport and help the drive to increase the number of English players in the Premier League.
He said: "When he was at Ipswich most of his team came through the youth system and he only bought something like 14 players in 13 years.
"Even when he was at Newcastle, dad tried to bring in home-grown players and forge a core of UK players at the club.
"The problem is that the rich owners demand instant success, and English or British players end up struggling to get a chance."
Sir Bobby, who took Ipswich Town Football Club to FA Cup victory in 1978, became England's most successful manager since Sir Alf Ramsey.
A spokesman for Ipswich Town said discussions were taking place about how the club will mark the day at its first home game of the season on 10 August against Millwall.
He had spells managing PSV Eindhoven, Sporting Lisbon, Porto and Barcelona before five years at Newcastle ending in 2004.
He died at the age of 76 following a long battle with cancer in 2009.
Related Internet Links
The BBC is not responsible for the content of external sites.