Laser mapping shows South Downs National Park's history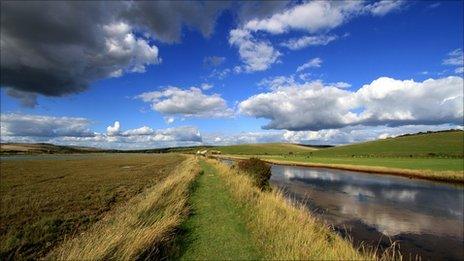 Airborne laser technology is to be used to uncover the history of the South Downs National Park.
More than 17,000 hectares of the park lie under dense forest forming, the authority said "a hidden landscape about which nearly nothing is known".
Ann Bone, the authority's cultural heritage expert, said laser technology on a plane would be used to produce a map of the landscape under the trees
Archaeological work on the ground would then follow, she said.
The park spans Sussex and Hampshire and is mostly chalk grassland, but maps will be created of the most densely-wooded area from the River Arun to the A3 road.
Ms Bone said: "What many people don't realise is that the park is very heavily wooded."
She added: "Because these trees have been there for a very long time, and are technically ancient woodland, we actually don't know very much about how people used this landscape thousands of years ago."
Data gathered by directing a laser at the ground and measuring the reflected light would provide a three-dimensional map showing all the "humps and bumps" under the forest, Ms Bone said.
She said park staff, archaeologists and community groups would go and see features that had been identified before any archaeological work could happen.
"The most classic example is [when] you get a long line of something that could be exciting and when you go out to look, it's actually a wire fence that's blown over and got the bracken piled up, so we need to be really sure what we think we're seeing," she added.
But she said it was known that areas of the park were farmed in the Bronze Age, had deer parks in the Middle Ages, and would have seen training activity during World War I and World War II.
The £935,756 project has received nearly £662,000 from the Heritage Lottery Fund and up to £130,000 from the park authority.
Related Internet Links
The BBC is not responsible for the content of external sites.