Call for detectors after carbon monoxide fumes death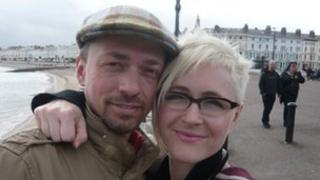 A man from Oxford whose partner was killed by poisonous gas from a burnt-out barbecue is urging people to use carbon monoxide detectors.
Hazel Woodhams, from Huddersfield, died during a camping trip with her partner Roland Wessling in Norfolk in 2011.
Mr Wessling, who was initially arrested on suspicion of murdering Miss Woodhams, was also seriously ill and spent four weeks in hospital.
He wants to see detector-alarms for the deadly gas used in every tent by 2020.
The couple, both forensic scientists, had left the cooled remains of their charcoal barbecue in the porch of their tent during a holiday at Clippesby Hall, near Great Yarmouth.
'Dead next to me'
Mr Wessling said: "The barbecue was cold to the touch - there was no glowing, no smoke.
"When I woke up in the morning, I was feeling very dizzy and disorientated. I was very sick. My entire right arm - I had no feeling, no movement in it.
"Worst of all was, when I turned around and after I got a little bit of consciousness back, I found my partner, Hazel, dead next to me."
Mr Wessling dialled 999 but was so disorientated, he was unable to tell the emergency services where he was.
He said: "The first reaction of the police was that it could have been murder so I was actually arrested for the murder of Hazel, which I can completely understand.
"They thought this was an illegal substances abuse case.
"They de-arrested me six hours later... but the words, 'Roland Wessling, I arrest you for the murder of Hazel Woodhams' - they will always be with me."
Following the tragedy, Mr Wessling learned that barbecues produce more carbon monoxide after they have burnt out.
He said, despite their scientific backgrounds, he and his partner did not understand the dangers of carbon monoxide in an outdoor environment.
Now he aims to raise £500,000 to conduct research into carbon monoxide release from fuels and hopes it will lead to the development of materials to absorb the gas.
When asked how he was able to speak about the tragedy in such a matter-of-fact way, he said: "I'm a forensic scientist... I feel it is my obligation to try to deal with this - at least in the public arena - fairly neutrally.
"While I am trying to raise awareness, I'm trying to keep my cool, but what I do when I am on my own is obviously very different."
Don Crook, watch manager for Oxfordshire Fire and Rescue, said: "There is a very real risk that anything that is burnt will produce carbon monoxide.
"Detectors that you can buy at DIY stores are designed to be used within the home or in caravans - they are not tested to be used in tents so should not be completely relied upon."
He said fire service advice was to never put burning materials, whether extinguished or lit, in or near a tent.