Diana Lee murder: Lover was a 'conman but not violent'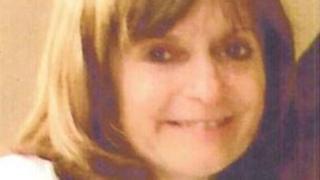 A man accused of murdering his lover after cheating her out of £60,000 "may be a conman but does not use violence", a court has heard.
David Ryan, 48, of Byrom Street, Altrincham, denies killing Diana Lee, 54, at her east Cheshire home.
Defending, Gordon Cole QC told Chester Crown Court that Mr Ryan "may be adept at getting money" but was not violent.
The court has also heard Mr Ryan did not take cash from Ms Lee and funded himself with a secret pot of money.
Ms Lee's body was found in a wheelbarrow full of wood by fire fighters who were called to attend a blaze at her gated detached property in the village of Cranage, near Holmes Chapel, on 9 August 2012.
The court has previously heard from the prosecution that Mr Ryan was "devious" and a "conman", who targeted Ms Lee because of his spiralling debt.
Unknown killer
The jury was also told that Mr Ryan, who is married and bankrupt, had not conned Ms Lee and had secret funds which even his wife did not know about.
Summing up, Mr Cole told the jury that "David Ryan may be a conman - that may be your conclusion from the evidence - but he does not use violence".
Refuting an earlier claim by the prosecution that only Mr Ryan and Mr Lee had been at the house in Holmes Chapel, Mr Cole said an unknown killer may have been waiting for the divorcee.
"Why can it not be that somebody was waiting for Diana Lee early in the morning when she came back from where she had been?" he said.
He said it was a "scenario" that was possible and that the jury should consider it.
The case continues.