Coventry City move: Hugh Robertson 'to meet Football League'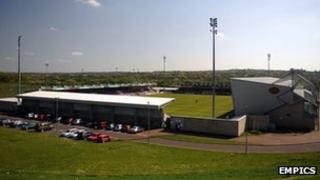 The sports minister has promised to talk to the Football League to discuss the crisis at Coventry City, according to city MP Jim Cunningham.
The club is due to play home games in Northampton because of a rent row with managers at the Ricoh Arena.
Matches are set to take place at Sixfields Stadium.
Mr Cunningham hopes Hugh Robertson can mediate so a compromise arrangement can be agreed to keep the Sky Blues in Coventry.
'Temporary solution'
The League One club, which has been based at the Ricoh Arena since 2005, is currently in administration.
It is at odds with Arena Coventry Ltd who run the venue on behalf of its owners, Coventry City Council and the Alan Edward Higgs charity, and is looking to build a new stadium.
Mr Cunningham, the MP for Coventry South, was joined by fellow city MP Bob Ainsworth in a meeting with the minister Hugh Robertson.
Speaking in the House of Commons, Mr Cunningham said: "I believe it's vital to somehow bring all sides of the dispute to the negotiating table.
"I'm only asking for it to be a temporary solution if needs be just until the long term solution can be reached.
"I believe the sports minister is well placed to mediate in this dispute and I've called on him to do so.
"Earlier today we had a very productive meeting.
"We do now know that the minister will now certainly be talking to the Football League."