Wisbech migrants: European Union delegation on fact-finding visit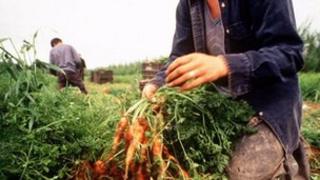 The Rosmini centre in Wisbech is used to having visitors. Every week as many as 1,000 migrant workers pass through its doors.
Some are in desperate need of help. Others want to take part in the centre's language classes. Many just want to have a coffee and a quiet chat but the visit from the the EU delegation was quite another affair.
There were looks of bemusement as the minibus swept into the car park and 15 uncomfortably hot parliamentarians and officials disembarked for a whistle stop tour of the centre, pursued by photographers and journalists.
In an airless upstairs room, with a loud fan whirring in the corner and the constant chatter of interpreters, they proceeded to take evidence on the latest stage of their fact finding trip, sustained by cups of tea and slices of Polish cake.
Unscrupulous employers
The cross-party delegation, which specialises in employment and social affairs, has been in Britain to find out how EU nationals get on when they come over here for work.
It made sense to choose Wisbech; according to recent figures the eastern region has seen more migration than anywhere else in Europe. In towns like Wisbech, foreign nationals make up more than a third of the population.
The good news was that they were told that, on the whole, migrant workers and local people got on well in the town. Many had chosen to make the east their home. The bad news was that a lot of them are still being taken advantage of by unscrupulous employers.
"It's not about the illegal things which are going on, it's about what's immoral" said Anita Grodkiewicz, who runs the centre. "Workers are not always aware of what's normal here, they come here and put up with not very nice conditions and it's only later that they start to realise that they're not lucky and it's not normal."
She and some of her migrant staff told the delegation about employers who provided poor and expensive accommodation, who charged for services like transport to and from work and who promised work which never materialised.
"Six people can be asked to go to the BP garage at 5am to be picked up for work but when the van turns up they now only need three.
"The three who get to the factory or the farm may be kept waiting for six hours and actually only do two hours work but they will only be paid for the hours that they work," she explained.
Job opportunities
But despite all that, the workers told the MEPs that they would still prefer to stay in Britain. The job opportunities here were much better than those back at home.
The MEPs praised the migrant workers for having the courage to leave home and look for work. One Polish MEP told a student from her country that she was proud of her.
"I think it is shocking when people face abuses and are left with the prospect of homelessness, when all they want to do is work hard, pay taxes and be part of the community," said Labour MEP Richard Howitt, who organised the trip to Wisbech. "If we have to change the European rules to stop it happening we will."
There wasn't much talk about the impact of immigration on the local community. The delegation was told by one British worker that the speed of it had been a shock. In one school, migrant workers' children now make up 50% of the pupil numbers. There had been anger and anxieties and occasional tensions, they were told.
The MEPs heard that more funding to help towns cope with a large influx of migrant workers would go a long way to easing tensions.
We will await the committee's report with interest.