RNAS Culdrose winchman receives George Medal for rescue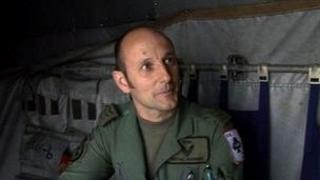 A Royal Marine who rescued a father and son stranded on a yacht in stormy seas has collected his George Medal, the UK's second highest medal for bravery.
Winchman Sgt Anthony Russell was part of a four-man team from RNAS Culdrose, in Cornwall, that rescued the pair from the Swedish yacht Andriette, in 2011.
He was presented with the medal by the Queen at Windsor Castle and said he was "very humbled".
He added it was "a great privilege" but added he was "only doing" his job.
The two sailors were rescued off the Isles of Scilly after their 36ft (10.9m) yacht got into trouble in gale force winds and rough seas, in July 2011.
'Natural instinct'
Sgt Russell said: "It was terrible weather, completely pitch black with waves that were 40ft (12.2m) high from the trough to the peak and it was pelting down with rain."
He dived into the rough sea in the dark after the lifeboat holding one of the men flipped over.
He swam to help save one of the sailors, raising him up to the helicopter and then dived under the lifeboat to free the other survivor.
Sgt Russell said his actions were partly based on the drills he had competed during training but also natural instinct.
He said: "It is a great privilege but, while we were only doing our job, it is really good that people think enough of you to give you a pat on the back.
"We were just doing our job on the night and then you compare it with other rescues and you think maybe this was a little bit more than the usual rescue."
Sgt Tony Russell, who is originally from Bath, is now based at RNAS Yeovilton.