Korean War: The honeymooners separated by conflict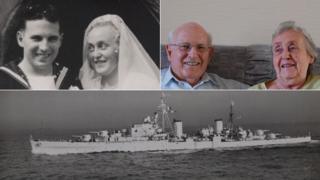 When 20-year-old Betty Jennings married Ken on 5 August 1950, they were not expecting to spend the first years of their marriage in opposite corners of the world.
Ken Jennings, 21, was a Royal Navy radio mechanic and knew there was a possibility he could be called away at short notice, maybe for months at a time.
But four days into the couple's honeymoon in Folkestone, Kent, Mr Jennings received a call telling him to report back to barracks. It would be the last time Mrs Jennings would see her husband for two-and-a-half years.
After a three-week journey, he found himself more than 5,000 miles (8,000 km) from his Cambridgeshire home alongside about 100,000 British servicemen fighting in the Korean War. The war began after South Korea was invaded by North Korea in June 1950 and ended with an armistice on 27 July 1953.
Mrs Jennings, 83, said: "We just had to put up with it - same as people do today.
"We got married on Saturday and on Tuesday his mother rang up and said: 'There's a recall to you to Chatham Barracks to go back immediately'. On Saturday, he was on his way to Korea and he was away for two and a half years."
The Jennings, who now live in Haverhill, Suffolk, met at a dance at Sawston Village College, Cambridgeshire, and married about a year later.
"There was no ship-to-shore telephone calls in those days," said Mrs Jennings. "All we did was write letters, numbering them so we could tell which was written first."
Mrs Jennings' life continued as it had before her marriage. She kept her job as a secretary at Eastern Counties Leather Company, Sawston, and continued to live in a two-bedroom house with her widowed father, sister and grandmother in Whittlesford, Cambridgeshire.
"I applied for a council house, but was told I couldn't have one until Ken came home," she said.
Mr Jennings, who had been too young to serve in World War II, had joined the navy in 1947, signing up for seven years. After his recall to Chatham Barracks, in Kent, it took three weeks for him to get to Singapore, where he transferred to the cruiser HMS Kenya.
He stayed with the ship for 18 months, as it bombarded the Korean coast, before swapping to the mine sweeper, HMS Lysander. The Korean winters were harsh.
"The sea froze and we needed to keep turning the big 6 ft (1.9 m) turrets to stop the ice from seizing them up," the 84-year-old said.
"We had duffel coats, but we had to buy our own long johns to keep warm. But it was one extreme to the other - it could be damned hot."
Mr Jennings was posted to the bridge when the Kenya bombarded the Korean coast.
"I had to be there in case any communications came through," he said. "Our commander used to give a real good commentary when we were bombarding."
More than 1,000 British troops were killed, almost 3,000 wounded, and a further 1,000 or so were missing or taken prisoner during the conflict. As the months turned into years, Mr Jennings said: "We were just fed-up with it and we wanted to come home.
"I tried to get leave to go home when my father-in-law died unexpectedly, when I'd been there for a year, but I was told I would only get leave if it had been my father who'd died."
Mr Jennings, who went on to work for Cambridge telecommunications company Pye, returned to the UK in February 1953, where his wife was waiting.
"I wondered if I would recognise him but, having had photos, I recognised him immediately and there was no change really, we just picked up where we left off," said Mrs Jennings.
The couple now have three children, four grandchildren and three great-grandchildren.
Mrs Jennings said: "I feel people these days can't cope with things the way we did back then - and they've got all the mod cons. Ken lived in Linton and when he'd come home on leave he'd bike to me, we'd cycle over to a dance at Sawston, he'd cycle me home to Whittlesford and then bike home.
"And we saw what went on during World War II so I think you had more maturity at that age than they do these days. We had a challenging start to our marriage, with so long apart, but we developed into a great team."