Alps shooting victim fraud case dropped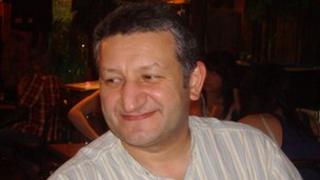 The case against a man who was accused of trying to defraud the bank accounts of an engineer who was killed in the French Alps has been dropped.
Abiodun David John, 33, from Salford, denied eight counts of fraud, four of which related to Saad al-Hilli.
The prosecution offered no evidence on all counts during his trial at Guildford Crown Court.
Mr al-Hilli, from Claygate, was shot dead with his wife, mother-in-law and a cyclist on 5 September.
A spokeswoman from the Crown Prosecution Service said: "After careful consideration of this case, we decided that it was not in the public interest to proceed with the case.
"When coming to this conclusion, we looked at a number of different issues, including the likely sentence he would receive if convicted and the amount of money that had been obtained through the fraud."
Mr al-Hilli's brother Zaid al-Hilli, 54, has been arrested on suspicion of conspiracy to commit murder and bailed until 31 July, pending further inquiries.