Cadbury pay rise deal secures 200 jobs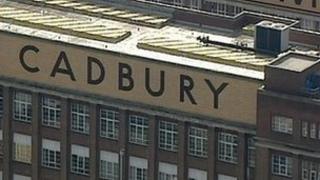 Two hundred jobs that were under threat at Cadbury have been secured amid a 3% pay rise deal.
In 2011, Kraft, which owns Cadbury, said jobs would go at Bournville, Birmingham, Chirk in Wrexham, north Wales, and Marlbrook in Herefordshire.
The Unite union said about £4.6m had been saved by reducing the number of agency workers, allowing the firm to retain its full-time staff.
Twenty-nine people are taking voluntary redundancy, Unite said.
Joe Clarke from Unite said a consultation had been carried out and changes made at Cadbury.
"We looked at how the business was run, which is very much in peaks and troughs due to Easter and other seasonal periods," said Mr Clarke.
"It was common sense in terms of putting the labour in the right place so we've reduced the head count of agency workers and amount of over time.
"That's saved £4.6m over two years so far."
Kraft bought Cadbury for £11.5bn in 2010 and the former Cadbury factory in Bristol was closed in January 2011, with the loss of 600 jobs.
In March last year, Kraft announced it had split into two independent companies, with one focusing on its North American food business, retaining the Kraft name, while Cadbury is part Mondelez, the global snacks arm.
A spokesperson on behalf of Mondelēz International confirmed the jobs had been secured across its three chocolate-making sites.
"We are pleased that discussions with union representatives have been very positive and welcome the recent pay agreement," they said.
"We've always said that in order to remain successful our factories need to remain competitive but we also said we would achieve any changes by working closely with our employees and their representatives to minimise any impact."
Mr Clarke from Unite said: "Cadbury are making money, they've always made money and in times of war and recession people eat more chocolate - they've got a really strong brand."