East of England Ambulance Service 'no confidence' vote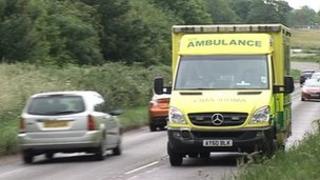 A union representing East of England Ambulance said staff are calling for a "vote of no confidence" in the director of emergency operations.
The NHS trust's five non-executive directors resigned in June following a critical report.
The Unison union claimed staff had expected Neil Storey to resign as well.
The trust's board said Mr Storey had only been a substantive board member since October and was "driving forward improvements".
The service, which covers Bedfordshire, Cambridgeshire, Essex, Hertfordshire, Norfolk and Suffolk, was criticised for almost two years over its poor response times, particularly in rural areas, before the critical report.
MPs were also critical and some called for the resignations of the non-executive directors.
'No axe to grind'
Gary Aplin, Unison's branch secretary for the East of England Ambulance Service, said: "The only person on the board who was left and had involvement and culpability with the state of play is the director of operations, and staff find it very strange that he hasn't resigned.
"He had a whole hand in decisions that have led to us being where we are, so there's a definite history there.
"I've got no axe to grind against the person himself, we just want a clean slate to get us back where we should be."
In a joint statement, Dr Geoffrey Harris, chair of the ambulance trust and Andrew Morgan, its chief executive, said: "Neil has been a substantive board member only since last October.
"During that short period of time he has helped develop our turnaround plan and started implementing actions to improve services to patients.
"Neil has been driving forward improvements like working hard to get more staff and ambulances onto the front line."
Unison's survey of staff will close on 28 July. The union said it would then consider whether to hold a formal "vote of no confidence".