Covpress £30m sale to Chinese and Shropshire investors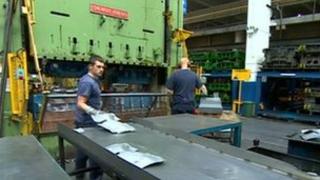 A Coventry manufacturing firm has been bought for £30m by a partnership between a Chinese automotive supplier and a Shropshire company.
Covpress, in Canley, makes body panels for the likes of Jaguar Land Rover (JLR) and employs more than 450 people.
Shandong Yongtai, based in northern China, wants to use the deal to help it break into European tyre markets.
It will partner with Telford-based tyre-specialists TIA Treadsetters who already count JLR among its clients.
The managing director of the Chinese firm, You Xiaoming, said his company had annual sales of about £2.7bn and was the "equivalent of Michelin in China".
'Massive sea change'
He said: "Our plans are to grow our business through increasing our international profile and penetration into European and other world markets.
"The acquisition of Covpress is an important move for us in our overall strategy."
Treadsetters chairman Peter Smith said they were taking advantage of China's growing economy.
Mr Smith said: "Our Chinese colleagues will learn from the rich automotive expertise here in the West Midlands.
"This is a massive sea change for Covpress.
"It will help cement relationships for our customers GM and JLR, and create further opportunities in China."