Swindon to Kemble railway upgrade work to shut line for three weeks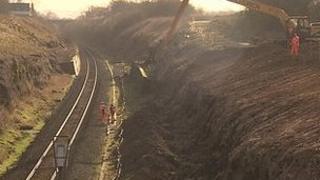 Engineering work that will close the railway line between Swindon and Kemble for more than three weeks, will be "complex", according to Network Rail.
The section will be closed from 10 August to 1 September while engineers realign the track.
It is part of a £45m project to re-double the line ahead of the Great Western Main Line's electrification.
Signals and other equipment will also be moved to make room for 12 miles of additional track.
Mavis Choong, from Network Rail, said: "We will have about 600 people working on the project and about 100 engineering trains out in full force to reposition six miles of existing track.
"This is a key part of the whole project. It's also quite complex managing the engineering trains on the line. It will be the most complex part of the programme of work within the three weeks.
Replacement buses will carry passengers while the line is closed, and journeys will take 30-35 minutes longer than usual, a spokesman said.
Trains will still run from Kemble to Gloucester and Cheltenham but will run to an amended timetable.
Some peak time services between London and Gloucester, Cheltenham and Worcester Shrub Hill will be diverted via Bristol Parkway.
The line between Swindon and the Gloucestershire village of Kemble was "singled" in the late 1960s as a cost-saving measure by British Rail, under agreement with the government.
The redoubled line, which will allow for up to four trains per hour in each direction, is due to be fully operational by Easter next year.