Diana Lee murder: Cranage killing fuelled by 'mountain of debt'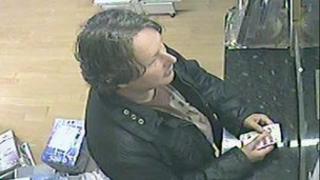 After the conviction of David Ryan for the brutal murder of Diana Lee, the judge presiding over the trial called it "the most complex single-defendant trial" he had ever been involved in.
Ms Lee, a 54-year-old cattery owner who lived in the leafy Cheshire village of Cranage, was found dead at her gated detached property on 9 August.
Police investigating what led 48-year-old Ryan to kill the "diminutive and gentle" woman said the intricacies of the case "cannot be underestimated".
The pair first met while out socialising in 2010 and, as Ryan did not reveal that he was already married, they started a relationship.
His reason for starting the affair was clarified at trial, when the court heard he targeted the 54-year-old during a "particularly low ebb" due to a "mountain of debt" he faced.
He went on to trick her into giving him cash by asking her to invest in a "bogus business", receiving about £60,000 over a period of months, which he could not repay.
'Declared bankrupt'
Assistant Chief Constable Ruth Purdie, of Cheshire Police, said Ryan gave Ms Lee "attention and affection and preyed on her trusting and kind nature for his own ends".
Not satisfied with the amount he had already been given by Ms Lee, police said Ryan's behaviour became increasingly desperate after his glazing and conservatory firm floundered and he was declared bankrupt in June 2012.
Officers investigating Ms Lee's death spotted withdrawals from her bank account that correlated with extravagant spending patterns by Ryan.
The money was spent on weekends away for him and his wife, a laptop and designer clothes.
Diana Lee was last seen alive on 8 August last year, when she met some friends for dinner at a restaurant in Knutsford.
Her body was found by firefighters called to her house by her brother after he discovered the property on fire the following morning.
Police said Ms Lee died from blunt force trauma to the head in a sustained attack in her bathroom. Her body was then taken to the garage, and four fires were started at the property to destroy evidence.
'No extradition'
Ryan tried to distance himself from the crime, despite evidence linking him to the scene.
The 48-year-old also attempted to "frame" Ms Lee's lodger by planting her underwear in the innocent man's bedroom and soaking an antique dagger the lodger owned in her blood, Chester Crown Court was told.
Following Ms Lee's death, officers analysing Ryan's computer found he had made online searches for "countries that do not have an extradition treaty with the UK".
They also found that he had tried to delete from his internet history a page on the Cheshire Police website related to the murder.
It was all to no avail though, as the jury returned a unanimous guilty verdict and the presiding judge, Mr Justice Henriques, stating that the case against him had been "absolutely overwhelming".