David Ryan guilty of lover Diana Lee's murder in Cheshire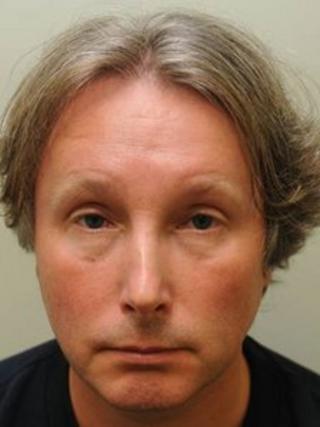 A man has been found guilty of murdering his lover and mutilating the body to cover his tracks, after cheating her out of £60,000.
David Ryan, 48, of Byrom Street, Altrincham, killed Diana Lee, 54, at her home in Cranage, Cheshire, last August, a jury found.
Her naked body was found in the garage by firefighters called out to a blaze started by Ryan.
Ryan is due to be sentenced at Chester Crown Court on Friday.
Assistant Chief Constable Ruth Purdie said Ryan targeted Ms Lee to trick her into giving him money to cover his "mountain of debt".
'Brutal and sadistic'
She said: "We have been left in little doubt that Ryan′s attack on Diana − a diminutive and gentle lady - was brutal and sadistic.
"He showed contempt and compounded his disregard for her when he did his utmost to remove DNA evidence and then destroy her body.
"He concocted a web of lies and brutally murdered a woman who had done nothing more than fall for the charm of a conman."
Ryan befriended Ms Lee, who ran the Parklands Cattery.
He did not tell her he was married and tricked her into giving him cash by asking her to invest in a "bogus business", the court heard.
Ryan owned a glazing and conservatory firm, but was declared bankrupt in June 2012.
During their two-year relationship, Ms Lee withdrew £70,000 from various accounts and Ryan's "cash purchases and deposits" totalled "more than £60,000", despite the fact he had no income and huge debts, prosecutors said.
Family 'destroyed'
After bludgeoning her to death he mutilated her body and set four fires around the house in an attempt to destroy DNA evidence, the jury was told.
He then tried to "frame" Ms Lee's lodger Andrew Leese by dipping his antique German dagger in her blood and planting her underwear in his room.
Mr Justice Henriques said the case against Ryan was "absolutely overwhelming".
In a statement Ms Lee's family said her death had left a hole in the lives of those that knew her.
They added: "It is hard enough to deal with the death of a loved one through sickness, accident or old age but Diana's death was planned.
"Every effort, calculated and brutal, was made by the perpetrator to try and ensure he could not be traced.
"David Ryan has only showed himself to be a coward. He has lied to try and explain away his barbaric crime. He feels no remorse or regret.
"His selfishness and indifference is no more than contempt for the life he has cruelly snubbed out and the family he has destroyed."