Gary Bolton guilty of selling fake bomb detectors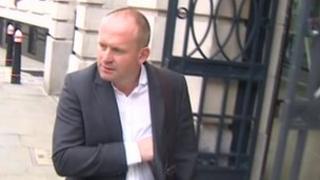 A businessman has been found guilty of making and selling fake bomb detectors.
The Old Bailey heard the devices made by Gary Bolton, 47, were nothing more than boxes with handles and antennae.
The prosecution said he sold them for up to £10,000 each, claiming they could detect explosives. The trial heard the company had a £3m annual turnover selling the homemade devices.
Bolton, of Redshank Road in Chatham, Kent, had denied two charges of fraud. Sentencing has been adjourned.
Richard Whittam QC, prosecuting, told the court that Bolton knew the devices - which were also alleged to be able to detect drugs, tobacco, ivory and cash - did not work but supplied them anyway to be sold to overseas businesses.
They were made at Bolton's home and at the premises of his company Global Technical Ltd, near Ashford.
Mr Whittam said one company X-rayed a device and found nothing inside the box.
No functioning parts
Jurors found Bolton guilty of a charge of making an article for use in the course of fraud and one of supplying an article for use in the course of fraud between January 2007 and July last year.
The prosecution told the court that Bolton had another fraudster's fake bomb detector in his house.
It was produced by James McCormick.
In a separate case, the 57-year-old, of Langport, Somerset, was jailed for 10 years in May for selling more than 7,000 fake detectors.
Bolton claimed his own devices worked with a range of 766 yards (700m) at ground level and as far as two and a half miles (4km) in the air.
He claimed they were effective through lead-lined and metal walls, water, containers and earth.
In 2010 a Home Office defence expert tested Bolton's GT200 detector at the request of the Office of Fair Trading and found it had "no credibility as an explosive detector" because it had no functioning parts.
Further stringent "double-blind" tests carried out on the GT200 by Dr Michael Sutherland of the University of Cambridge found that it worked successfully twice in 24 tests searching for TNT, which was less than the probability of finding the explosives at random.
Bolton was invited to attend the tests in October 2010, but did not show up.
Favourable report
In his report, part of which was read to the court, Dr Sutherland said the device was "completely ineffectual as a piece of detection equipment".
In 1999, Bolton approached the Royal Engineers Exports Support Team (Reest), which promotes British equipment overseas, to produce a "Private Venture Report" on the earlier Mole detector.
They found that it was accurate about 30% of the time and could not be relied upon.
Despite this, two "letters of recommendation" from Reest, dated June 2003, were found at Bolton's offices.
They referred to the GT200, which went on sale in 2004 and which the engineers had never tested.
A favourable report from Reest was also produced in 2004 when Bolton sold a device to British American Tobacco (BAT).
After testing it, a company expert found it was ineffective and X-rayed it, revealing there was nothing inside the box.
Sentencing was adjourned to a later, unfixed date and Bolton was released on conditional bail.
This story was amended on 20 August to reflect the fact the name of Gary Bolton's company was reported in error as Global Technology Limited, which is not connected in any way to the defendant's company, Global Technical Ltd.