Manston airport reveals 40-year expansion plan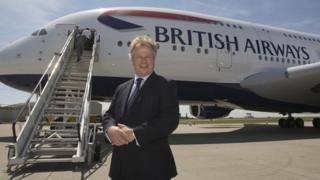 Plans to attract 16m passengers a year by 2050 and a proposal for a new high-speed rail link in north Kent have been revealed by Manston Airport.
The 40-year vision has been revealed as part of Manston's submission to the government commission looking at airport expansion in the South East.
Airport boss Charles Buchanan also wants it to be a "release valve" airport for Heathrow and Gatwick.
It says it it could take on low-cost passenger and freight traffic.
'Real danger'
The Davis Commission has also received submissions for new runways from Gatwick, Heathrow and Stansted and for a new four-runway hub airport on the Isle of Grain in Kent or in the Thames Estuary.
"Most (people) acknowledge that no new runways will be delivered within 10 or 15 years, if not longer," said Mr Buchanan.
"The real danger is that the competitiveness of the South East and London will be compromised so it is essential that in the interim we make the best use of those runways and airports that have already been built.
"Manston is available for growth now."
Between 2015 and 2025, Manston says it could be handling five million passengers a year and 400,000 tonnes of freight.
It also proposes becoming a principal "diversion" airport for Gatwick and Heathrow while new capacity is being built.
In the longer term, it wants to attract more business and leisure traffic from low-cost carriers from Africa, Europe and Asia.
Crucial to its plans would be a new railway station and public transport interchange.
And it wants to see a 40-mile, 140mph high-speed railway line constructed along the north Kent coast from Ebbsfleet, connecting the Medway towns with the airport and Ramsgate.
No plan of the route or detailed costing has been prepared.
"With a high-speed line along the track of the existing north Kent line, central London could be 40 or 45 minutes away, which is a fantastic opportunity - not just for the airport but for the future of Thanet and east Kent and the north Kent towns as well," Mr Buchanan said.