Jesse Richards murder: Mother's appeal to help find son's body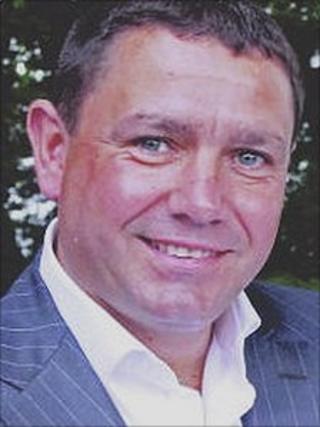 The mother of a murdered businessman whose body has never been found says the family cannot grieve for him until they know what happened.
Five men were jailed last year over the death of Jesse Richards, 40, a father-of-three from Surrey.
He was last seen in Worcestershire in July 2009.
Mr Richards mother, Lucy Richards, who has worn black since he went missing, said she was desperate for information that would help find his body.
West Mercia Police said they believed Mr Richards died because of a drugs debt.
It is thought he was bundled into a van in the Cleeve Prior area of Worcestershire and his body taken to Warwickshire to be disposed of, police said.
The abandoned van was found in Bedworth the day after he went missing.
£10,000 reward
Ms Richards said: "I have channelled all of my anger and upset from grief into protecting my 11 grandchildren and three children but, four years on, my heartache about the loss of Jesse remains as strong as ever.
"My life will never be the same...we have been forced to accept that Jesse was murdered but we cannot mourn for him properly until his body is found.
"All I ask now is that those people that do know where he is finally come forward and let us have that information."
West Mercia Police said a £10,000 reward was still available for information that leads to the recovery of Mr Richard's body.
Det Ch Insp Mark Loader said: "We were very pleased a number of men were convicted... but we still need to find Jesse's body as his family cannot have a funeral and lay him to rest until we do.
"Jesse's children need to have closure and peace of mind."