Leasingham church toilet success 'such a relief'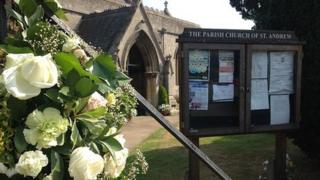 An 800-year-old Lincolnshire church is to get a toilet for the first time after a successful funding appeal.
Parishioners at St Andrew's, in Leasingham, said worshippers and those considering events were being put off by the lack of facilities.
Some people, most often small children, were having to go behind headstones, they added.
But an open garden day raised the £9,000 needed. Resident John Vassard said there was "a sense of relief".
After an appeal on BBC Radio Lincoln, villagers organised the community event and were overwhelmed by the response.
Money 'miracle'
Mr Vassard, from the church, said: "This is a sleepy village and we were inundated. People came from Leeds and Norfolk, there was nowhere to park!
"When we came to count the money we had to do it eight times to make sure it was really that much."
"A lot of people were in tears and there was such a sense of relief that something was happening after all these years of embarrassment.
"That this was taking place - it was like some sort of miracle. This sort of thing happens to other people and all of a sudden we have all this money and by the end of the year the toilet will be in."