University of Worcester funds two PCSOs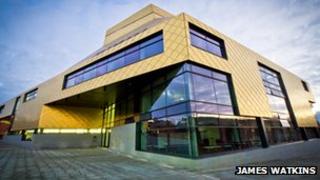 The salaries of two police community support officers (PCSOs) will be funded by the University of Worcester to help prevent crime at its sites.
Ch Insp Paul Kinsella said the university had identified "issues with some disorder" it wanted to support West Mercia Police with.
The salary band for a PCSO with the force is between £18,721 and £20,734.
University vice chancellor David Green said the cost would amount to "£5 per student per year".
The university will pay the salaries of the officers, while West Mercia Police will meet other costs, including pensions, National Insurance and training.
'Deep commitment'
The university said the two officers would begin working in September.
They will based at the St John's Campus and will also work at the City Campus, Riverside, The Hive, University Arena and University Park.
Mr Kinsella said any decision about deploying the officers would "remain with West Mercia Police".
A security team of 25 full-time staff is already employed by the university.
Mr Green said the university had a "deep commitment to working in partnership".
He added the university was not expecting any special favours from the police force.
West Mercia Police said they already had four PCSOs in Telford paid for by the council, two more paid for by the Wrekin Housing Trust and one paid for by a private retail park in Shropshire.