Daniel Pelka murder: Sentencing remarks on Luczak and Krezolek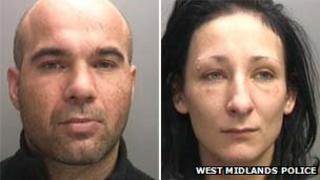 The mother and stepfather of Daniel Pelka have been jailed for a minimum of 30 years each for the murder and "incomprehensible cruelty" leading to the four-year-old's death in March last year.
Daniel, who had also been starved by Magdelena Luczak and Mariusz Krezolek, weighed just over a stone and a half when he died.
Before sentencing, the judge, Mrs Justice Cox, summed up the case. The bulk of her comments, sometimes graphic in their description, are reproduced below:
"The facts of this case are deeply shocking and disturbing.
"Harrowing details of the unimaginable acts of cruelty and brutality inflicted on little Daniel, over many months, have exposed both the torment and despair he must have suffered and your callous disregard for his pain and distress.
"Both of you concealed your conduct from the authorities by a series of deliberate and elaborate lies, designed to put them off the scent. Your campaign of cruelty, as it has accurately been described, culminated in the severe blow or blows to his head that killed him.
"Exactly when this appalling cruelty started is not clear. Until your relationship began, in early 2010, Daniel appears to have been a healthy child, developing appropriately and giving no real cause for concern.
'Hallmark' lies
"While the evidence demonstrates that systematic cruelty probably began when Daniel started school in September 2011, your complicity in his ill treatment was first evidenced by the displaced fracture to his arm, sustained 14 months before his death.
"This would have resulted immediately in excruciating pain and loss of function, yet you did not take him to hospital until the following day.
"I have no doubt that you, Mariusz Krezolek, deliberately used considerable force to inflict that injury, and that you Magdalena Luczak, discovering what had happened, joined with him in waiting to see if you could keep it secret, and then in lying to the doctors about how it had happened.
"This determination to lie and to protect yourselves at all costs was to become the hallmark of your subsequent conduct."
The judge said Daniel was described by school staff as appearing to be a healthy and well cared for little boy and there was no evidence of any ill treatment towards Daniel's siblings.
"The scale of his suffering was truly horrific," she said.
"He was subjected to acts described by you as punishments but which, were designed to cause pain, to humiliate and to intimidate."
The judge said Daniel was forced to kneel for long periods of time, run continuously around the living room, perform squats and swallow salt, poured neat into his mouth, causing him to vomit.
"He was subjected to a form of cold water punishment. Exactly what form that particular punishment took we will never know, since neither of you has explained it.
"He must have been absolutely terrified.
"He was subjected to regular beatings, as the teachers' observations of bruising and the multiple bruises seen on his body after death testify. There were nine separate bruises to his head."
Extraordinary hunger
The judge said Daniel was confined for regular and prolonged periods of time in a small, bare box room where the inner door handle was removed and the metal panel arranged so that he could not even see out of the keyhole.
"The small hand and finger marks on the inside of that door provided a poignant image of his desperate attempts to escape. The urine stains to the mattress on which he was made to sleep and the damp state of the carpet testify to his inability to go to the toilet when he needed. There is evidence of him soiling himself.
"It is a particularly grave aggravating feature that Daniel was the victim of chronic and systematic starvation. He was literally wasting away. His bones ceased to grow.
"Expert medical witnesses described their shock at the extent of Daniel's emaciation at his death. They regarded it as unprecedented in this country.
"They likened his appearance to those who failed to survive concentration camps, and that comparison was not made lightly."
The judge said Daniel scavenged for food and "would have suffered extraordinary hunger, increasing abdominal pain and, ultimately, a feeling of hopelessness."
"Both of you constructed a careful and wholly untruthful account that Daniel had a serious eating disorder and learning difficulties, which he may have inherited and for which he was receiving medical treatment," she said.
Mrs Justice Cox added the pair "instructed and encouraged" Daniel's siblings to lie to the authorities.
"He was subjected to a brutal assault, in which he was given salt and subjected to a form of cold water punishment in the bath.
"I am satisfied, Mariusz Krezolek, that this head injury was inflicted by you and you applied considerable force. By their verdict, Magdalena Luczak, the jury clearly rejected your account that you tried to intervene and were sure that you were jointly liable for Daniel's death.
"Daniel would have lost consciousness immediately after this impact so that any lucid interval, involving undoubted mental anguish and physical pain, would, mercifully, have been short.
"Daniel then lay alone in the box room, as his life slipped away, from that Thursday evening until just before 3am on Saturday morning, while you both continued your lives, hoping that he would regain consciousness.
"Your internet searches on that Friday morning reveal both the scale of the cruelty you had inflicted on him and your growing realisation that he was not responding.
"Still you did not take him to hospital, until you discovered in the early hours that he was not breathing and eventually called the emergency services.
"I am in no doubt that, before you made that call, you deliberately planned the detailed lies you would tell in an attempt to deceive the authorities and save your own skin."
'Chilling texts'
The judge said before their arrests, the pair tried to hide any evidence by deleting their computer search history and concealing the stained mattress.
"You lied persistently when you were interviewed by the police. By their verdicts the jury were sure that you continued to lie at this trial. Over the nine weeks of acutely distressing evidence I have not observed a single sign of genuine remorse at any stage from either of you."
The judge said although evidence suggested Luczak was a "victim of domestic violence," that did not lessen her culpability.
"In any event your relationship has been revealed to be an intense and stormy one, marked by heavy drinking, mutual acts of aggression and yet strong physical attraction.
"That you, Magdalena Luczak, were fully complicit in these acts of incomprehensible cruelty towards your own son is clearly established by the chilling text messages you sent to Mariusz Krezolek, between 7 October and 2 March.
"Both of you are in breach of what is probably the most important position of trust, as the parents of a small child who was entitled to their protection, their love and their care.
'Rare case'
"Both of you carried out a deliberate and cynical deception of teaching, welfare and medical personnel, designed to conceal what was happening, to prevent any help being provided for Daniel and to enable you to continue your ill treatment of him without interference.
"This is one of those rare cases where the sustained campaign of cruelty you carried out amounted in my judgment to conduct likely to cause or which may possibly have caused Daniel's death.
"Your expressions of regret and sorrow made now ring hollow in the circumstances of this case."
The judge said the pair would spend a minimum of 30 years in prison before the parole board considered their release.
"If it remains necessary for the protection of the public you will continue to be detained in custody after that date. You will in any event remain on licence for the rest of your life."