East Midlands Ambulance Service boss Phil Milligan resigns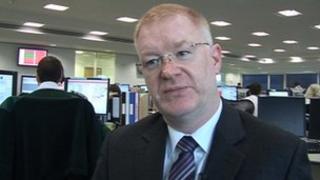 The chief executive of East Midlands Ambulance Service has resigned after a challenging year for the service.
It comes after months of criticism over the service's response times and as it failed to meet targets for the third successive year.
Phil Milligan announced he was leaving the organisation after nearly two years in the post.
He said the role had been "demanding" and he was "proud to leave the service in a much stronger position".
Fined £11m
During his two years in the position Mr Milligan has overseen a shake-up which has seen the majority of ambulance stations being sold off.
The service has also been fined £11m for failing to meet response targets for three years in a row.
Following a Care Quality Commission inspection in March, the service was told it needed to take action over its care of patients, its staffing and its training and support.
Mr Milligan said: "I joined EMAS (East Midlands Ambulance Service) to make a difference.
"With the plans in place and progress made I am proud to leave EMAS in a much stronger position."
He said he was now looking forward to spending more time with his family and "taking a back seat for a while and to leave the driving to someone else."