Hannah Smith death: Expert warns over anonymous question sites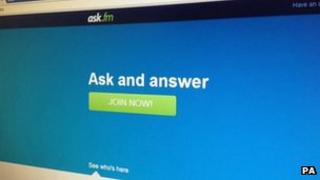 The death of Leicestershire teenager Hannah Smith has opened the lid on the mysterious world of social media website Ask.fm.
The online community, set up in 2010, invites members to answer and ask questions of fellow "friends".
But danger and serious consequences lie in its ability to allow users to post questions or comments anonymously, internet security experts argue.
Hannah, 14, was found hanged on Friday. Her father Dave Smith revealed he found abusive comments on her Ask.fm profile page telling her to die.
Separately three teenagers, two in Ireland and one in the UK, are believed to have taken their lives after receiving abuse on the website.
'Motorway accident'
Internet "trolls" appear to be able to operate freely throughout users' profiles.
A number of teenagers and parents have spoken to the BBC about abusive or threatening messages they have received from anonymous posters.
But what exactly is the attraction of the website? Why are teenagers so keen to share their information in an open environment?
"It's like the scene of motorway accidents. There's something in human nature that pulls us towards wanting to peer in on the ghoulish," said John Carr, secretary of the UK's Children's Charities' Coalition on Internet Safety (CHIS).
He said: "The problem is, children aren't emotionally mature enough to handle the potential consequences. That's where the responsibility element comes in for the site creators.
"They can't just launch these sorts of spaces and then turn a blind eye.
"It has to be better regulated and controlled."
'Acted immediately'
Ask.fm's creators declined to comment further about what action they take to protect children from harmful abuse.
A spokesman reiterated the statement that was released following Hannah Smith's death.
He said: "Ask.fm actively encourages our users and their parents to report any incidences of bullying, either by using the in-site reporting button, or via our contact page.
"All reports are read by our team of moderators to ensure genuine concerns are heard and acted upon immediately.
"We always remove content reported to us that violates our terms of service."
BBC Radio 4 Today Programme reporter Tom Bateman spoke to "Claire" (not her real name), 15, from London, about her experience of using Ask.fm.
She said: "I first started using it because you could ask a question of anyone and nobody would know it was you.
"I was on Ask.fm every day to begin with and it was quite fun.
"But, then I started getting hate messages, someone had written this massive, long paragraph about me. It talked about my mum, how I looked, that I wore too much make-up to school.
"People started asking if I'd seen it. It made me really upset, because these weren't questions, they were just horrible messages."
Shortly afterwards she said she deactivated her profile.
'Attention-seeking'
Stan Gulliford, 14, from Hampshire, joined Ask.fm after being invited by a friend through Facebook.
He said: "People say some really offensive things on there, because they can do it anonymously.
"Girls seem to use it more than boys as a way of getting attention. From what I can see, they do so even though they know they might get abuse.
"I think it's a waste of time. After signing-up, I realised quite quickly that it just doesn't interest me."
His mother Dolly added: "Stan's quite savvy and knows not to take things that might be said on there too seriously.
"But, what worries me is by the time his generation start going out into the workplace, they probably won't be using email and telephones to communicate.
"Everything's going to revolve around social media, as it's become such a huge part of everyday life."