Gatwick night flights 'ruin Kent residents' sleep'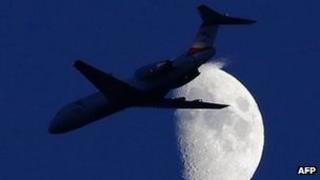 A new call to ban night flights at Gatwick Airport has come from people living more than 20 miles away in Kent.
Aircraft noise campaigner David Howden, who lives in Langton Green, Tunbridge Wells, said sleep was being ruined.
Gatwick has an annual quota of 14,000 take-offs and landings at night and said it tried to minimise the impact on residents.
It has appealed to the government not to reduce that, arguing it would cost jobs.
Mr Howden said: "It is a problem because the density of traffic at Gatwick is increasing.
"One of stated objectives is to double the amount of aircraft movements at Gatwick by the mid-'20s."
'Better understanding'
He said daytime flights also caused problems but conceded there was little prospect of forcing a reduction in them, particularly as the owners want to build a second runway to meet increased demand in south-east England.
"We would ideally like to see, as at Heathrow, the cessation of night-time operations, and if that can be achieved, I think there will be a much better understanding from people about daytime operations," he said.
"It is worse at night. Some of the aircraft... generate an unfortunate high-pitch whine when they are in descent, and in the still of night it is a very disturbing noise."
A spokesperson for the airport said: "Every effort is made to minimise the impacts of aircraft noise on local communities, including encouraging airlines to fly quieter planes and working closely with [National Air Traffic Services] to introduce successful noise-reduction measures.
"We will continue to work with the airline community to identify and implement further noise mitigation measures for the benefits of our local communities."
The Department for Transport said the next set of night-flight quotas at Heathrow, Gatwick and Stansted would come into force in October 2014 following a consultation, which ended in April.