Daniel Pelka's body will be released to his father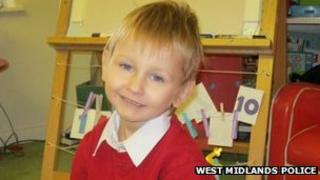 The body of murdered four-year-old Daniel Pelka is to be released to his father in Poland.
Daniel was beaten and starved by his mother and stepfather at their Coventry home before his death in March last year.
Magdelena Luczak, 27, and Mariusz Krezolek, 34, were jailed last week for 30 years.
The Coventry and Warwickshire Coroner's Office confirmed that Daniel's body will be released to his father Eryk.
It is understood Mr Pelka wants his son to be buried in Poland.
Mr Pelka's family said they expect to know more on Monday.
There has been no date set for release or repatriation at this stage, a spokesperson from the coroner's office said.
Luczak and Krezolek blamed each other for killing Daniel who died from a head injury in March 2012.
Daniel weighed just over a stone and a half when he died.
The judge at Birmingham Crown Court told Luczak and Krezolek their "campaign of cruelty" had "caused [Daniel] severe physical and mental suffering".
His death is the subject of a serious case review by Coventry's Safeguarding Children Board and a report is due to be published within weeks.
The review will look at what was done by police and social services after staff at Daniel's school - Coventry Little Heath Primary School - noticed bruising on his neck and what appeared to be two black eyes.
Amy Weir, the independent chair of the board, said: "Clearly there were failings in Daniel's case and the serious case review is looking at why systems that are in place were not used."