Beach scenes used in laboratory health study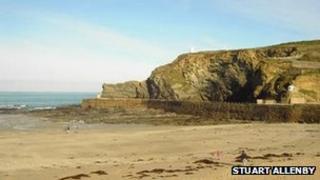 Images of Cornish beaches are being played to people using exercise bikes, as part of a study investigating their effect on physical and mental health.
The study in Truro is being carried out by the University of Exeter Medical School's European Centre for Environment and Human Health.
Scenes of several north coast beaches are being used.
Researchers said participants' heart rate, blood pressure and mood were monitored under laboratory conditions.
Research co-ordinator Abi Scott said the team believed the research would examine the most beneficial ways for individuals to use the environment around them.
"We've all experienced the joy of the outdoors, whether through relaxing on the beach, walking the coast path or riding a bike; we take to the outdoors in a variety of ways and for many reasons," she said.
"We want to know how coastal environments affect us mentally and physically, so we can make the most of any benefits that exist."