V Festival at Weston Park faces traffic delays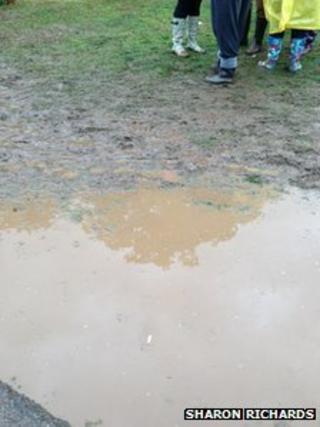 Drivers heading to the V Festival in the Midlands have faced long delays.
Some visitors took up to three hours to travel from the M6/M54 link road to Weston Park on the Shropshire/Staffordshire border - normally a 15-minute journey.
Tailbacks of 14 miles were reported on the M54, partly as a result of a man being hit by a lorry near junction 2.
Delays have proved longer than in previous years, the Highways Agency said.
Kings of Leon
More than 25,000 vehicles are expected to arrive at the site, the spokesman said.
One of nine entrances to car parks was closed by flooding caused by "solid rainfall" since midnight.
It meant some vehicles were going further north on the A41 than in previous years to access other car parks, the Highways Agency said.
The northbound exit at junction 12 of the M6 was closed from 04:00 BST until 16:00 BST, with festival traffic diverted off the M6 at junction 10A on to the M54 before getting off at junction 3 in Shropshire - the A41 turn.
Southbound traffic on the M6 was able to leave at junction 12.
A pedestrian, a man in his 20s, was hit by a lorry on the A449, Bushbury Road, Wolverhampton, near the junction with the M54 at 08:50 BST and airlifted to hospital, the ambulance service said.
By 16:15 BST all lanes were open but were experiencing long delays.
About 90,000 people are expected to attend the event, now in its 14th year at Weston Park.
Beyonce and Kings of Leon are headlining the festival, which is also held at the park's sister site, Hylands Park in Chelmsford, Essex, on Saturday and Sunday.