Allied Special Forces Association unveil new memorials at National Arboretum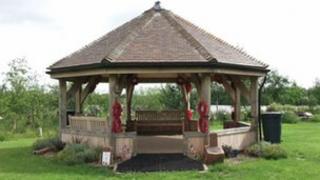 Two new sections of the Allied Special Forces Association's Memorial Grove have been officially opened to mark its 10th anniversary.
The Sun Room and Annette's Memorial Way were unveiled at noon at the National Memorial Arboretum in Staffordshire.
Formed in Hereford in 1999, the association represents all special forces groups and works to make sure fallen soldiers are remembered.
The oak timbered sun room was made in Hereford following various donations.
Those who sponsored the oak panels are to have their names carved into the wood.
'Significant to Hereford'
The Sun Room project began in 2006 and, following the dedication of the Mirbat Memorial in 2009, the association received a donation of £35,000 towards the Sun Room from the Sultan of Oman.
Mike Colton, from the association, said the Sun Room was significant because "Hereford is the spiritual home of special forces".
He said the group originally wanted the grove to be in Hereford, but decided to base it at the arboretum because more people would have the opportunity to see it.
Annette's Memorial Way was also opened as a tribute to Annette Colton, who died in 2011.
Mrs Colton was a supporter and volunteer at the grove and had the initial idea for the Sun Room and the reinforced path for visitors to make their way around the memorials.