Richard III: Leicester mayor rejects 'arrogance' charge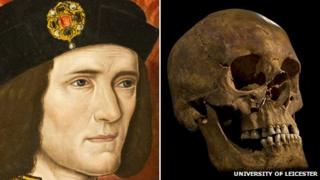 Leicester's mayor has rejected claims he is "arrogant" in the continued row about the reburial of King Richard III.
A group, calling themselves the Plantagenet Alliance, which includes relatives of the king, have been given a judicial review of the decision to rebury the king in Leicester.
The group's Vanessa Roe said he wanted to be buried in York and Leicester's claim was purely based on economics.
The mayor, Sir Peter Soulsby, said the case for the city was "overwhelming".
Archaeologists from the University of Leicester found the remains of the last Plantagenet king, killed at the nearby Battle of Bosworth in 1485, under a city car park in September 2012.
'Murdered and forgotten'
A licence issued by the Ministry of Justice for the dig gave the university authority to decide where any remains would be reinterred, with the nearby cathedral being selected.
Last week a judge gave permission for a judicial review of this decision, based on the fact there had been no consultation.
Sir Peter has consistently rejected claims from other locations, particularly York, for the bones.
"I think it is pure arrogance on his part," Ms Roe said.
"They don't actually have a case to keep him there in my opinion. He is basically buried somewhere he was murdered and left and forgotten."
She added: "I think a lot of it is basically the revenue they think they are going to get keeping him there.
"Whereas we have a moral ground here. We want him to go back to where he wanted to be buried - where his spiritual home was."
To further muddy the waters barrister Jonathon Rushton said the original licence referred to reburying an unknown body.
"The licence to exhume was given on the basis that the bodies taken out of the car park were, I quote 'persons unknown'. Now we are not in that position any more are we," he said.
He added: "That puts, to my mind, a completely different complexion on the case."
But Sir Peter said the plan had always been to find Richard III and he was confident the remains would stay in Leicester.
"I'm not arrogant," he said. "Just determined".
He also questioned why the Plantagenet Alliance had any say in the matter when it is estimated between one and 17 million people are relatives of Richard III.
"I'm just really quite irritated that this particular bunch have come along, 15 people apparently who nobody has asked to prove they are the king's descendents," he said.
"The Plantagenet Alliance have just come along lately and said we want him in York.
"Well I have to say what right do they have to say in this rather than the one to 17 million other people who might be his descendants?"
He said the king was born at Fotheringhay, in Northamptonshire, and brought up in Middleham, in north Yorkshire, and his title prior to becoming king was the Duke of Gloucester.
Sir Peter said all of these places could mount a claim for the burial place of Richard III
His brother, who was Duke of York and King Edward IV, is buried in Windsor while most kings and queens are buried in London.