Wing-walking schoolgirls fly over Gloucestershire for record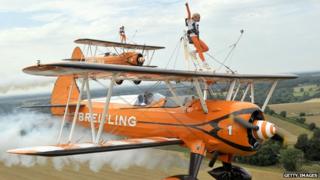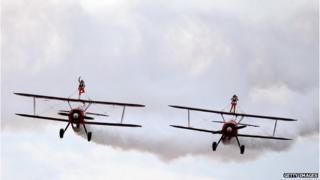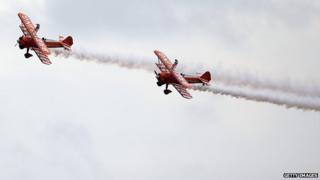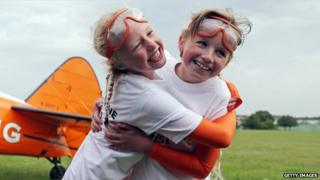 Two nine-year-old girls have taken to the skies to become the world's youngest formation wing-walkers.
Rose Powell and Flame Brewer, who are cousins, flew metres apart above Rendcomb airfield in Gloucestershire.
They have become the third generation of their families to wing-walk on the bi-planes, which are owned by pilot and grandfather Vic Norman.
In 2009, Flame's brother Tiger became the youngest to wing-walk with his grandfather. He was eight at the time.
'Superwoman pose'
Rose, a student at Thomas's school in Fulham, west London, said her cousin had the idea but it was a "once in a lifetime experience".
"It's quite scary when you take off but if you like mega funfair rides I think you'll find the take-off really cool," she added.
"The best bit was probably taking off or doing the Superwoman pose."
Her cousin Flame, who attends Notting Hill Prep school, said: "It was really fun and really windy. The best bit is just being in the air."
They wanted to use the challenge as a way of raising money and awareness for the Duchenne Children's Trust, which raises money for research into the fatal genetic disease Duchenne Muscular Dystrophy.
The Cirencester-based AeroSuperBatics team has claimed the record based on it being the only aerobatic formation wing-walking team in the world.