Ambulance bosses warn of compulsory redundancies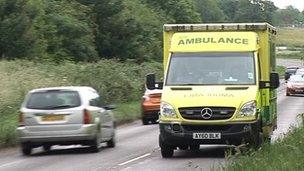 An ambulance trust looking to cut staff has said there could be compulsory redundancies if not enough people volunteer to leave.
East of England Ambulance Service (EEAS) Trust bosses want to reduce the number of backroom staff and private ambulances to save £20m.
They say the money would be invested in more ambulances and paramedics.
The consultation period is due to start, with a decision about redundancies being made by November.
Interim chief executive Andrew Morgan said: "We are trying to move money from one part of the organisation - the support functions - into direct frontline patient care.
"We need more ambulances on the road, and to do that we need to employ more paramedics, clinicians or care assistants - that's where the money is going to go."
He added: "There's always a risk that we may have to go down the compulsory redundancy route - I'd like to avoid that."
Norman Lamb, Liberal Democrat MP for North Norfolk, and also a health minister, said it was "critical" to have investment in frontline services.
"If the organisation is too fat at the management level and at the administrative level, then that has to be addressed," he said.
"The principle is clear: the trust has to go about it in a proper way - it has to fully consult staff."
Gary Aplin, Unison's branch secretary for the EEAS, said any redundancies would be "unwelcome".
"Morale level with the uncertainty that this is obviously going to throw up is going to degrade further.
The trust, which covers Bedfordshire, Cambridgeshire, Essex, Hertfordshire, Norfolk and Suffolk, was ordered to improve by the Care Quality Commission (CQC) in March after its response times deteriorated.
Mr Morgan then put in place a "turnaround plan" which included measures such as recruiting more paramedics, tackling sickness and restructuring management.
Related Internet Links
The BBC is not responsible for the content of external sites.