Speedboat victim Holly-Ann Schofield awaits trip home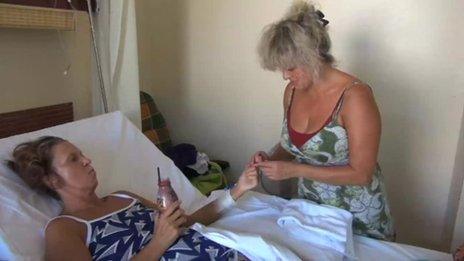 A woman who was in a coma for three weeks after being hit by a speedboat off a Greek island is hoping to return home to Hove within days.
Holly-Ann Schofield, who had been living and working in Rhodes for 18 months, sustained life-threatening injuries when she was hit on 1 August.
Friends and family have raised thousands of pounds via a Facebook appeal to bring her back to the UK.
They are waiting for airline and medical clearance to fly her home.
Her sister Joanna, who has been at her hospital bedside, said it had been a life-changing experience for both of them.
Speaking from the hospital in Athens when she has been receiving treatment, Holly-Ann Schofield said she did not remember anything about the day she was injured.
"I really can't even remember walking down the beach that day," she said.
"I don't remember what I did during it - I don't know whether I worked."
Ms Schofield was hit in the abdomen by the speedboat and suffered a punctured lung, broken ribs and pelvis, a fractured spine and an aneurysm in her aorta.
"It has had a huge impact," said Joanna Schofield.
"I can't begin to thank all the medical teams, all the surgeons, the ITU unit - everything.
"They saved her life and gave her amazing care."
Ms Schofield was brought out of her medically induced coma last week.
Her medical treatment is covered by her E111 European Health Insurance Card (EHIC) but, because she was living in Rhodes, she did not have insurance to cover her flight back to Hove, estimated at £30,000.
She said she was grateful for the funds raised by friends and family.
"My old town has really shown itself proud," said Ms Schofield.
"I will get my chance to thank them properly but I am really chuffed."
Related Internet Links
The BBC is not responsible for the content of external sites.