Seal found with neck wound in Felixstowe returns to sea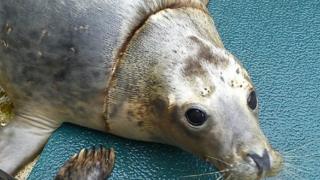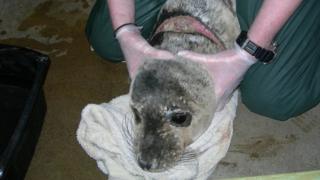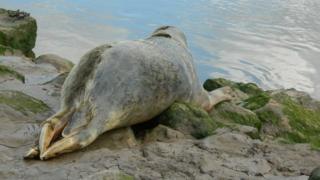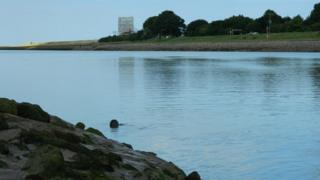 A seal, which was rescued on the Suffolk coast with a large gash in its neck, has been returned to the sea after six months of treatment.
The pup was found tangled in fishing net at Felixstowe beach in March and taken to the RSPCA's hospital near King's Lynn, Norfolk.
The grey seal, named King Niepold, has a scar from the 1in (2.5cm) deep cut across the back of its neck.
He was released into the River Nene at Sutton Bridge, Lincolnshire.
The seal, who was believed to have been born last November or December, was found by a local teenager at Landguard Fort in Felixstowe and taken in for treatment at the RSPCA's centre at East Winch.
'Stopped eating'
The charity expected the seal to recover within three months, but he had to be kept in longer after he started losing weight in July.
Alison Charles, centre manager, said: "He was doing really well, but stopped eating and took a bit of a nosedive.
"We gave him multi-vitamins and he regained his appetite within a week, but we don't know what was wrong with him.
"He flopped off into the water and swam away rather swiftly with not so much as a thank you, but it was great to see him swim off and the hard work's been worth it."
The RSPCA said King Niepold headed off in the direction of The Wash.
A spokesman said as he was a juvenile he would stay out at sea and they had not tagged him.