Bulger killer Jon Venables released from prison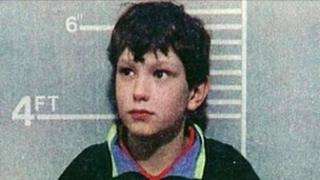 Jon Venables, one of James Bulger's killers, has been released again from jail.
The 31-year-old was recalled to prison in 2010 for accessing images of child abuse. He was granted parole in July.
Venables was first released in 2001 on licence, after serving eight years for the murder of two-year-old James.
James was killed in Bootle, Merseyside, in February 1993 by Venables and Robert Thompson, both aged 10 at the time.
They lured James out of a shopping centre and took him to a railway line, where he was beaten with bricks and iron bars.
'No faith'
When Venables, who was given a new identity on his release from a secure children's home in 2001, was rearrested it emerged he had breached his parole conditions by visiting Merseyside.
He had developed drug and drink problems, started behaving anti-socially and revealed his real identity to friends.
He was sentenced to two years in prison in July 2010 after admitting downloading and distributing indecent images of children.
James's mother, Denise Fergus, was informed of his release on Monday.
She told the Sun newspaper that Venables was a "danger to the public".
"I have been told the terms of his parole mean that he must not enter the county of Merseyside," she said. "But the Probation Service didn't monitor him properly last time so I have no faith in their ability to do that now.
"They should've kept him locked up for a long time."
Robin Makin, lawyer for James's father Ralph, said he was concerned Venables would offend again and "innocent people could suffer".
He said Mr Bulger had been told of Venables's release but given no other information.
Fresh identity
Venables had previously been denied parole in 2011.
BBC home affairs correspondent Danny Shaw said Venables was freed after the Parole Board concluded two months ago that he could be safely managed in the community.
"Venables has been given a new identity. This is believed to be the third or fourth fresh identity he has been given, but there's been no confirmation of this," he added.
A Ministry of Justice spokesman said life offenders could be released once the Parole Board was satisfied they can be safely managed.
"Their life licence lasts for the rest of their lives, and they may be recalled to prison at any time for breaching their licence conditions," he said.
"Additionally, they will be subject to strict controls and restrictions for as long as their risk requires them."
It is understood other restrictions have also been put in place, as is routine with released prisoners who have been serving sentences for child sexual offences.
When he was jailed in 2010, the court imposed a five-year sexual offences prevention order on Venables which restricted his use and ownership of computers and also banned him from accessing any social networking or chat sites and using any file-sharing or peer-to-peer software.
He is also required to register with the police for the next 10 years and is permanently barred from working with children.