Sandringham death: Alisa Dmitrijeva 'fresh leads' confirmed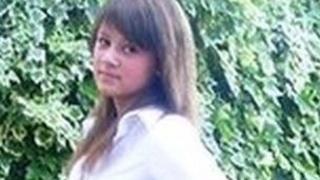 Detectives investigating the murder of a teenager whose body was found on the Queen's Sandringham Estate say they are following "fresh lines of inquiry".
The body of Latvian Alisa Dmitrijeva, 17, who lived in Wisbech, was found in the woodland on New Year's Day 2012.
Last week's renewed appeal, which took place two years after she was last seen, resulted in "encouraging new leads", officers said.
Two men questioned over her death were later released without charge.
The last-known sighting of Alisa was in Friar's Street, King's Lynn, at 12:15 BST on Wednesday 31 August 2011, when she was seen in a green Lexus car with two men.
Missing clothing
Her partially-clothed body was found in a copse at Anmer on the afternoon of 1 January 2012.
Images of missing clothing similar to that worn by Alisa were released last week, together with a fresh appeal to the public, and especially to the local Latvian, Lithuanian and Russian populations, with whom she socialised, police said.
Det Insp Marie James said she was "encouraged" by the response they had received so far and added officers were pursuing "several possible new lines of inquiry".
She added: "We absolutely know there are individuals out there who know how and why Alisa died.
"I would reiterate my message to anyone who may have information to have the courage to come forward, and help us give Alisa's family the answers they deserve."