The sniffer dog with a nose for historic homes' dry rot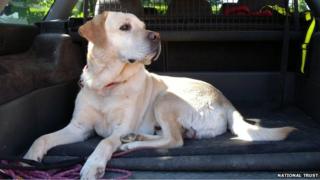 Dogs are known for using their noses to sniff out drugs, firearms and even cancer. But can they also use that sensitivity to save the nation's stately homes from the scourge of dry rot?
Seven-year-old Sam is a dog in demand.
The golden Labrador, once abandoned by his owners for being "too boisterous", has carved out a career detecting dry rot hidden from the human eye.
For Sam, locating the heady whiff of the fungus is the start of a new game which will end with extra cuddles from his handler and trainer, Peter Monaghan, a surveyor.
But detecting the rot is a serious business for the National Trust, the charitable trust which maintains some of Britain's most treasured stately homes.
Over the past year the trust has spent about £51.8m on property conservation alone.
Standing at the heart of an estate which includes parks and a working farm, about 10 miles (16km) south of Cambridge, is the 17th Century Wimpole Hall.
It is the location of Sam's most recent assignment - scouring its 300-year-old basement to see just how far its dry rot had spread.
It meant a long journey for Sam and Mr Monaghan, 60, from their home near Kendal, in Cumbria.
But Sam is a well-travelled Labrador, as he is thought to be one of only two dry rot sniffer dogs - known as "rothounds" - working commercially in the UK.
Sam and his colleague Wilson - a black Labrador - are on the payroll of Surrey-based Hutton and Rostron, a company specialising in controlling dry rot and decay in historic buildings.
Dry rot, Serpula lacrymans, flourishes where there is moisture, and leads to decay and deterioration of timber. It is related to mushroom and toadstool fungi, and has a distinct "mushroomy" odour.
The rothounds are brought in at the early stages of fungal detection, locating problems at the source and enabling treatment to be more accurately targeted.
In fact, their ability to sense the rot before it spreads and becomes more obvious, is one of the reasons why Wimpole Hall chose to call on Sam's services.
"Dry rot has been an on-going problem for us. It was popping up everywhere and we just couldn't pinpoint where it was coming from," assistant house steward, Jess Marczewski says.
"One of the trust's conservators suggested we try a different way of tackling it, and that's where Sam comes into the story."
Sam is trained to detect active dry rot fungus and "the odd doughnut or two", Mr Monaghan says.
"I found Sam about five years ago at a rescue centre in Cumbria, where he ended up after his family found him too boisterous to deal with," he explains.
"But a boisterous working dog is exactly what's needed for sniffing out anything, whether it's drugs, firearms or fungus.
"You need a very focused, single-minded animal determined to find something that usually can't be seen."
Dogs like Sam do not make good family pets, Mr Monaghan says.
"Sam lives for the joy of working, praise from me - and the occasional doughnut."
As a Labrador, Sam is particularly well-suited to the role of sniffer dog.
Biologist and animal behaviourist, John Bradshaw, from the University of Bristol, has studied the habits of dogs for more than 25 years.
He says the average canine's sense of smell is "almost unimaginably more acute" than that of humans.
"It's at least 1,000 times more sensitive than ours for strong odours like onions, and up to 100,000 times for the best dogs, for things that really don't smell of anything very much to us."
The larger the dog's skull and nose, the larger their scent detection area, he says, so large breeds dogs like Labradors and German Shepherds can be particularly useful sniffer dogs.
In the summer Sam was called in to help stem Wimpole's dry rot problems.
Collections manager, Lisa Voden-Decker, says: "Carefully lifting floorboards is reasonably straightforward but it may not give a full picture of the problem.
"There are other voids and structures within the house that are not so accessible, and this is where rothounds come into their own.
"Sam's sniffing skills allowed him to sweep spaces and locate rot within concealed timber and masonry," she adds.
"When he smelt it he became motionless, confirming its presence in areas we know were affected, and in a couple we didn't."
Sam's training took about two years to complete. The training, Mr Monaghan says, is much the same as for any sniffer dog - they are taught to follow a specific scent.
Sam can locate the smell of dry rot among any other fungi, Mr Monaghan says.
When he finds it, he drops to the floor with his nose in the direction of the scent.
"It's very important not to cause any damage to a building like Wimpole Hall, and Sam is calm, focused, and will go about his work carefully and quietly," his owner adds.
"You certainly couldn't use a sniffer Spaniel for this work. Can you imagine one leaping around and skidding across 300-year-old floors?
"You'd have a shattered Ming vase on every corner."