Twitter user held over Michael Le Vell child rape trial tweet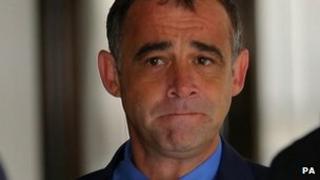 A man has been arrested on suspicion of tweeting the identity of a girl who has accused Coronation Street star Michael Le Vell of rape.
Greater Manchester Police arrested a 43-year-old from the Gloucester area over a tweet about the actor's trial at Manchester Crown Court.
Mr Le Vell, 48, who is appearing under his real name Michael Turner, denies 12 charges including five of rape.
A second man has been interviewed under caution over a similar tweet.
Police said they spoke to a 28-year-old man about a similar but unconnected tweet earlier.
Victims in sex abuse cases are granted anonymity.
Supt Phil Davies from Greater Manchester Police said: "Public identification of victims of sex abuse, in particular child victims engaged in court proceedings, can cause both immediate and long term distress and harm, especially in cases as serious as this.
"The same principles apply to social media as they do to the mainstream media.
"People may not understand that when they use social media they are required by the law to keep victims anonymous in exactly the same way as people who work in mainstream media."