Is a badger cull the only answer to bovine TB?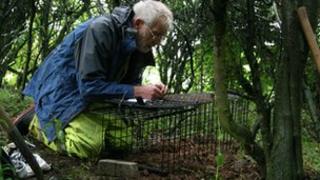 Two trial badger culls have started in Somerset and Gloucestershire, provoking strong opinions.
Protesters have gathered at the sites and the cost of policing alone - estimated at £2m in each area over the four years they are due to run - is expected to eclipse the cost of the actual culls.
There is even dispute among different experts over whether these particular trials will have any impact on the spread of TB in cattle.
But is there an alternative to the culls, which could well be rolled out to other parts of England next year?
Some organisations, including wildlife trusts, believe there is another answer.
"In the high-risk areas the focus has been very much on culling as the main method of controlling the disease in wildlife and we believe not enough emphasis has been put on vaccination as a viable tool," Helen Trotman, from Shropshire Wildlife Trust, said.
"We know it works, we know it reduces infection in badgers."
The Shropshire and Cheshire wildlife trusts are one year into a five-year vaccination scheme targeting a 1,000-hectare zone across the counties' border.
Vaccination funding
So far this year they have vaccinated 55 badgers on both their own reserves and private farms.
In Devon, the National Trust is two years into a four-year scheme at its Killerton Hall estate, costing about £80,000 a year.
A spokeswoman said: "We felt we needed to do something. We have a lot of tenant farmers and we felt we needed to do something to protect them.
"We strongly believe this is one of the ways that needs to be used to control TB, but perhaps not the only one."
The government is providing funding for some third-party vaccination projects, particularly those in zones bordering high-risk areas.
Its Animal Health and Veterinary Laboratory Agency is also three years into what it describes as a "very successful" study in Stroud, Gloucestershire, not far from the site of one of the pilot culls.
This year alone it has inoculated 998 badgers.
What is lacking, however, from all three vaccination studies is data on the impact on nearby cattle herds.
They all say it will take several years to have any measurable effect.
Badgers have a life expectancy of about five years and both the wildlife trusts and Defra said it could take about this time to develop a "herd immunity".
'Alarming spread'
That time, according to the government and the NFU, is something the English farming industry simply does not have.
Environment Secretary Owen Paterson said it could "not afford to wait" to tackle the "alarming" spread of bovine TB.
New incidents in cattle herds have risen steadily in England over the past decade and cost taxpayers £500m in compensation to farmers.
Speaking ahead of the pilot culls, Mr Paterson said the current badger vaccine was simply unworkable, particularly in the worst affected areas.
Another criticism of vaccination is the effort and expense involved.
Some estimates say the cost could be as much as 10 times that of culling badgers, depending on what method is used.
"The truth of the matter is that vaccination is comparable with the cost of culling when you include the cost of policing and licensing, which farmers [in the pilot cull zones] aren't paying for," Ms Trotman said.
On average, the cost of vaccination to the farmers that Shropshire and Cheshire wildlife trusts are working with is £2,000 per square kilometre, per year.
The government estimates the pilot culls will cost farmers an average of £1,000 per square kilometre, per year.
However, across the four years of the culls, the additional costs to the taxpayer of monitoring, licensing and policing at both sites are expected to come to a total about £6.4m.
Cattle vaccine
Ms Trotman said rather than invest in a long-term solution, the government was opting for a cull that could ultimately prove "counter-productive".
It is a view echoed by Professor Lord Krebs, who designed a £50m scientific study into the effects of culling, which saw thousands of badgers killed between 1997 and 2007.
He said a badger cull would not have a significant impact in the long run.
Supporters of the cull, however, say that vaccination is simply not up to the job and point to the experience in the Republic of Ireland, which has seen TB rates tumble as a result of a cull - although there are key differences in the approaches adopted in England and Ireland.
Amid the arguments, however, there is an elephant in the room - a solution that is broadly accepted by both pro and anti-cull campaigners.
Immunising cattle, rather than badgers, would be relatively cheap, humane and effective in controlling bovine TB.
It is currently banned under EU legislation, mainly because it makes it more difficult to check for infection in the animals.
Defra believes overturning the ban could take 10 years - more time English farming simply does not have.