West Mercia Police cadet scheme expanded across force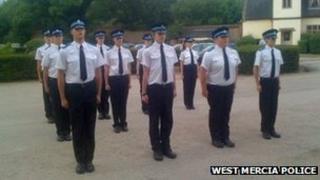 A cadet scheme that has run for 17 years in Shropshire is to be extended across the West Mercia Police force.
Five detachments of cadets will cover Telford and Wrekin, Herefordshire, north Worcestershire, south Worcestershire and Shropshire.
Seventy new cadets will be formally enrolled into the scheme at the force's headquarters at Hindlip Hall later.
Police cadets are a uniformed organisation open to anyone between the ages of 16 and 18.
The Telford cadet scheme was awarded the Queen's Medal for Voluntary Service in 2010.
Cadets meet weekly and follow a two-year programme which includes volunteering within the community, supporting the local Safer Neighbourhood teams and achieving a qualification in leadership skills
Fourteen teenagers who have completed their two-year cadetship with Telford Volunteer Police Cadets will also take part in the ceremony.
Assistant Chief Constable Gareth Morgan said: "During their two year cadetship the young people gain confidence and develop leadership skills which they may not experience anywhere else, and in return give a lot to the policing service and the local community."