Four men on trial charged with burglaries and robberies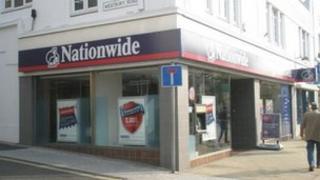 A "highly professional" gang stole cash and items worth £550,000 in a series of terrifying raids, a court has heard.
Four men deny charges of conspiracy to commit robberies and burglaries in Hampshire and Berkshire.
A security guard was hit with a sledgehammer during one raid in Farnborough as the gang stole £85,000 in cash.
The trial at Winchester Crown Court is expected to last up to six weeks.
Prosecutors allege the gang carried out the crimes at shops in Basingstoke and Reading, as well as raids in Farnborough, Havant and Fareham.
The men are alleged to have stolen £240,000 in cash from banks and building societies, expensive cars worth a total of £200,000 and £110,000 of cash and stock from shops and houses.
'Forensically aware'
Stewart Last, 29, from Windsor, and Richard Loveridge, 28, and Andrew Smith, 27, both from Slough, are alleged to have carried out the robberies and burglaries.
A fourth man, 38-year-old Lee Fitzgerald, from Windsor, was described as a facilitator - providing a base camp for the gang at a farm.
James Newton-Price, prosecuting, told the jury the men used every possible anti-detection measure and were "forensically aware".
He described how afterwards members of the gang "couldn't help themselves" and made phone calls which later allowed police to track their movements.
He added police discovered stolen cars connected to the robberies when they were called to the farm in Windsor on an unrelated issue.
In a hired garage they also found a metal cutter used in robberies and a sledgehammer with glass fragments embedded in it.
'Radio silence'
These were found to be a "close match" to smashed glass found following a raid at a Nationwide building society in Havant, in November 2011, which was carried out while G4S security staff were restocking an ATM.
Jurors were shown mobile phone records which showed the defendants were in the vicinity of the farm but maintaining "radio silence" and not making calls while robberies were carried out.
Mr Newton-Price said: "Time after time phones were shut down at relevant times... with occasional and incriminating exceptions."
He also showed the court a holdall found at Mr Loveridge's home in Slough which contained gloves, jackets and commercially produced balaclavas as well as a "home made" one.
He described it as a "classic robber's kit".
The robberies and burglaries happened between August 2011 and January 2012.
The trial continues.